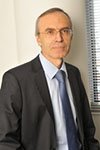 Director of Technical & Quality Control and Financial Management Consultant
B.Sc., CPA (American Institute of Certified Public Accountants), CMA (Institute of Management Accountants, USA), CIA (Institute of Internal Auditors, USA)
Joseph was born in Cyprus in 1958. In 1975, after his secondary education at a Nicosia school, he moved to the UK, where he did a BSC degree in Mathematics at Aston University, in Birmingham. Following his graduation in 1979 he moved to London where he worked with an Accounting firm until 1982 when he returned to Cyprus, joining an accounting firm. In 1985 he left the accounting profession to join the Middle East division of one of the world's largest NGO's as Financial Controller. In 1987 he moved from the Not-For-Profit sector of industry to the mainstream commercial world, joining the Middle East / Asia / Africa division of the world's largest manufacturer & installer of synthetic sports surfaces. He joined as Chief Accountant and successively progressed to Financial Controller, Commercial Manager and finally Finance Director. Joseph joined the UHY group in 1996, where he is the technical director responsible for accounting & auditing and quality control. He is in charge of all financial, accounting, auditing and tax affairs of the group.
With his specialist education and experience, Joseph considerably enhances the group's capacity for providing clients with specialised financial management consultancy services. He also devotes considerable time in professional training & education, running, organizing or delivering professional examination courses and seminars on a wide range of topics, including International Accounting Standards, International Auditing Standards, Internal Auditing and Corporate Governance.
In addition to his university degree in Mathematics he is a Certified Public Accountant (CPA), a Certified Management Accountant (CMA) and a Certified Internal Auditor (CIA), being a very active member both of the USA professional bodies and their local chapters. He is also a member of the Cyprus Institute of Certified Public Accountants (ICPAC).