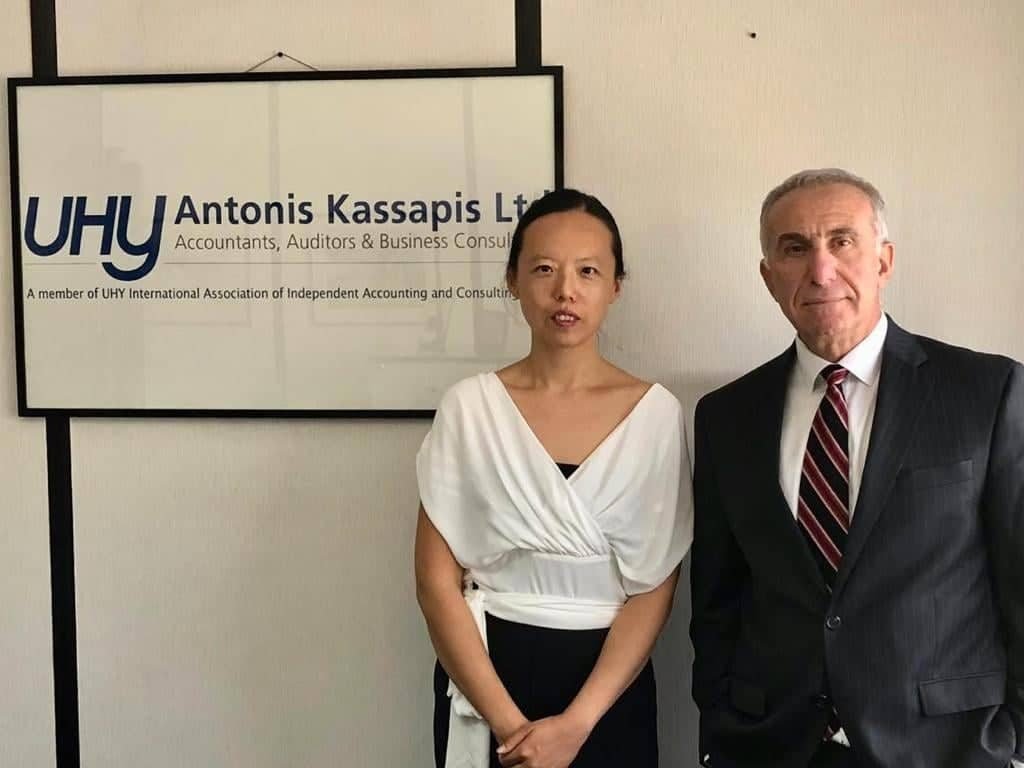 Above: Mr Antonis Kassapis with Ms Fu Danhua (Romy) from our China desk in Nicosia
1. Introduction : Why Choose Cyprus
Cyprus is a full member of the EU since 2004, a member of the Eurozone since 2008, with a stable economy, an educated workforce, advanced infrastructure, a high quality of life and a favourable tax system. It is no surprise therefore, that Cyprus has established itself, as an important center for international business.
2. The Chinese Perspective
Cyprus is an ideal tax efficient gateway for Chinese investments anywhere in the world as well as for facilitating investment into China itself. The Double Tax Treaty between China and Cyprus strengthens the financial ties of the two countries, enhancing and promoting further the scope for tax efficient investment opportunities.
The local market offers attractive investment opportunities to Chinese investors in a variety of sectors such as hotel and tourism, real estate, regional wholesale trading and in the emerging oil and gas industry.
Furthermore, Cyprus also offers two programmes for investors and their families – the Cyprus Investment Programme (offering Cypriot citizenship) and the Permanent Residence Permit (offering Non-EU citizens an immigration permit providing access throughout EU).
3. Cyprus Investor Immigration Programmes
Cyprus Investment Programme (Cyprus citizenship)
Non-Cypriot Investors can acquire the Cyprus Citizenship by Naturalization
The level of investment is set at € 2M – 2.5M, with a number of investment options available. The Programme caters for naturalisation of the Investors' families, i.e. spouse, underage children, and qualifying adult children between 18 to 27 years old.
At least one residential property must be of at least €500.000 excl. VAT, which must be kept for life.
Permanent Residence (Immigration Permit)
Non-EU citizens, who purchase property in Cyprus of minimum €300.000 excl. VAT, are entitled to apply and receive an Immigration Permit through an expedited process.
This Permit grants its holders the right to travel to and reside in Cyprus for life. The Permit is extended to the applicant's spouse, under age children, adult dependent children up to 25 years old and parents/in-laws.
4. Key Features of the Cyprus Tax System:
Cyprus offers the most attractive tax system in Europe for international business.
It provides a simplified, effective and transparent tax regime that is fully compliant with the European Union laws and regulations.
One of the lowest corporate income tax rates in the EU at 12.5%
The "user friendliness" and practically zero tax status of the Cyprus Holding Company
Wide network of Treaties for the Avoidance of Double Taxation, including some with large countries which have comparatively beneficial provisions
Absence of withholding taxes on dividends, interest or royalties paid from Cyprus
Exemption from tax of many types of income
Many other tax incentives introduced
No Inheritance taxes.
No capital gains taxes (except only on immovable property in Cyprus.
Double Tax Treaty Network and EU Directives
Cyprus has an extensive network of Double Tax Treaties (DTT). Several others are under negotiation. Where there is no DTT, when appropriate a Cyprus company can benefit from the EU Directives to eliminate withholding taxes when collecting income from the EU.
Unilateral tax credit on foreign taxes withheld at source is also available.
The Treaty network covers EU, including UK, France and Germany; most East European countries including Russia, Ukraine, Poland and Romania; USA, Canada, China, Singapore, India, South Africa, as well as Middle East countries, such as Egypt, Kuwait Qatar and UAE.
5. The Cyprus Holding Company
Cyprus Holding companies can provide simultaneously the ability of ownership and control on other companies, as well as offering a number of tax benefits on both a corporate and personal level.
Here's a summary of the most important tax advantages of a Cyprus holding company:
Income from dividends is tax free
Gains on the sale of shares are tax free.
Proceeds from the liquidation of subsidiaries abroad are tax free
Capital gains on disposals of capital assets are tax free.
Profits from activities of a Permanent Establishment abroad are tax free.
Lower withholding tax rates in other countries on remittances of income from dividends, royalties or interest due to wider applicability of Treaties for the Avoidance of Double Taxation.
Tax free distributions by Cyprus Holding Companies to their non-resident or non-domiciled resident shareholders
Some other tax advantages in Cyprus:
Net income from other activities is taxed at one of the lowest corporate income tax rates in Europe, 12.5%
Notional Interest Deduction (NID) Rules
EU Parent-Subsidiary Directive
It can be re-domiciled to a third country (provided is allowed by that country law)
Can be listed in any stock exchange abroad
No thin capitalization rules
Neutral tax treatment for foreign currency exchange differences ('forex') which do not relate to trading in forex
It can be incorporated and maintained with very low costs
The holding company is considered a tax resident and enjoys the attractive tax legislation, when the control and the management takes place in Cyprus
No capital duty on the initial authorized capital at incorporation of a new company or on any subsequent increase of the authorized share capital (or share premium)
Group loss relief
The tax payer may apply for a ruling for any matter that he wishes to get the written opinion of the Commissioner of Taxation.
6. Tax benefits of a Cyprus Tax Resident Individual
No tax on gains arising from the disposal of investments (shares, bonds, etc)
No withholding tax on the repatriation of income as dividends, interest and royalties extensive double tax treaty network
Income tax exemptions for taking up employment in Cyprus up to fifty percent of the remuneration for 10 years for employment income of more than €100,000 per annum
Low social insurance contributions
No tax on worldwide dividend and interest income for non-domiciled individuals for 17 years (except for minimal GHS contributions as outlined further below)*
No tax on retirement gratuity and special tax regime on foreign pension income
No estate duty, wealth tax, gift tax or inheritance tax
'Non-Domiciled Cyprus Tax Resident 'Individuals – some additional benefits
In general, individuals can be deemed as non-domiciled if they have not been born in Cyprus ("domicile of origin" is outside of Cyprus") or have not lived in Cyprus for at least 17 consecutive years ("domicile of choice")
Cyprus tax resident individuals, who are also non Cyprus domiciled, are able to enjoy the following additional tax advantages :
No tax on Dividend income
No tax on Interest Income
Rental income : partly exempt (only subject to Income Tax at normal rates, and GHS on rental income sourced in Cyprus)
7. Investment Opportunities in Cyprus
The local market offers a number of interesting sectors, including:
Oil & gas
Renewable Energy
Maritime & Shipping
Hospitality & Leisure
Cyprus Alternative Investment Funds
Electronic Money and Payment Institutions
Real Estate
Wholesale and Regional Centers
8. Why Choose our firm in Cyprus :
We have been in business for more than 25 years and we have a wealth of experience in providing a whole range of quality professional services to both local as well as international business clients.
Whether you are looking to use Cyprus as a base for your international operations or to invest in Cyprus we can help you make the difference.
We regard ourselves as a 'one stop shop' : whatever you may need we are confident that we can provide you with the appropriate service that is required.
For more information on how we can assist you with this matter please contact Mr Antonis Kassapis (tel 00357 22379210) or email uhy@uhy.com.cy
The contents of this publication should be considered to be of a general nature only not referring to any particular business. Before proceeding with any action, please request further advice relating specifically to your business. We will be very please to be of assistance.